Planning the perfect wedding has been all encompassing - lets be honest, its been a stressful experience leading up to the execution of a successful event. Like every Bride and Groom - you are so looking forward to the honeymoon, but where will you go? You can always rely on the all time favorites such as Hawaii, the Caribbean or Mexico, but we want to introduce you to some secrets that are out there. These small boutique properties are a unique place for a romantic hideaway, simply a place to breathe and relax. Here are our top seven lesser known places, sure to make many future top 10 lists:
Spinalonga Island – Elounda, Crete
"In this special time of your life, let us make your honeymoon in Greece a time to remember. Domes of Elounda honeymoon resort specializes in creating the honeymoon of your dreams. Located in Elounda, Crete, one of the most exclusive romantic destinations of the world, let us cater to your needs while you immerse yourself in luxury and celebrate your love. Whether you plan on relaxing in your honeymoon suite by your personal pool, soaking in the sun on our sandy beach by the crystal blue waters of the Mediterranean, or self indulging at the Domes spa we have ensured that your honeymoon in Greece will be more than you ever imagined!"
Golden Bear Lodge – Punta Cana, Dominican Republic
Each of the Golden Bear Lodge's guest rooms and suites come complete with chic furnishings, marble bathrooms, and impressive ocean views of the sparkling Caribbean. At the Golden Bear Lodge the hours will pass in a haze of relaxation and peace, making you seriously consider missing your flight back home.
Royal Davui Island Resort - Fiji Islands
On this remote island escape you'll find the emphasis is on privacy and rustic luxury living. Individually designed to fit amongst the rocks and old-growth forest are just sixteen 'vales', each featuring a living room and bedroom in separate buildings joined by a hallway, with a private plunge pool off the living room balcony. Days are as relaxing or as active as you want them to be – Beqa Lagoon is renowned for some of Fiji's best diving locations and divers will find everything from soft coral to shipwrecks within the protective lagoon reef system. Designed to complement the climate, menus consist of seasonal ingredients and fresh seafood makes a daily appearance.
Riveria Maya – Cancun, Mexico
Unique cottage features include screened porches, fireplaces, quietly lavish décor, luxurious bathrooms, linens and amenities, and outdoor showers under the canopy of the forest. Escape to the comfort of our spa nestled up amongst the treetops or keep you feet firmly planted on the ground and explore our organic farm, there is something for everyone.
Kamalame Cay – Andros Island, Bahamas
Kamalame Cay is a 96-acre private island hideaway with three miles of sugar soft sandy beaches. This barrier island is accessible only by private ferry or seaplane. A handful of gracefully decorated private villas dot this island escape and face a rhythmic ocean surf that will lull you into an attitude that requires only bare feet, suntan lotion, and a cocktail, making Kamalame Cay the perfect place for romance.
Sivory Punta Cana – Dominican Republic
Set along the shores of a private beach which stretches as far as the eye can see, this boutique resort is the ideal place to enjoy the tropical paradise of the Domincan Republic. When you visit the Sivory expect to bask in an oasis of exclusive pleasures where your worries, stress and the wedding planning grind are all banished to the horizon.
Villa Feltrinelli – Gargnano, Italy
Villa Feltrinelli, is situated along the shores of Lake Garda, a grand hotel boasting an atmosphere of casual elegance, high style, and historical importance. Outside the majestic villa lies a magnificent swimming pool, where guests can sit back and take in the splendid views over the mountains of northern Italy. All in all, when history and luxury combine with style and serenity, beautiful moments abound.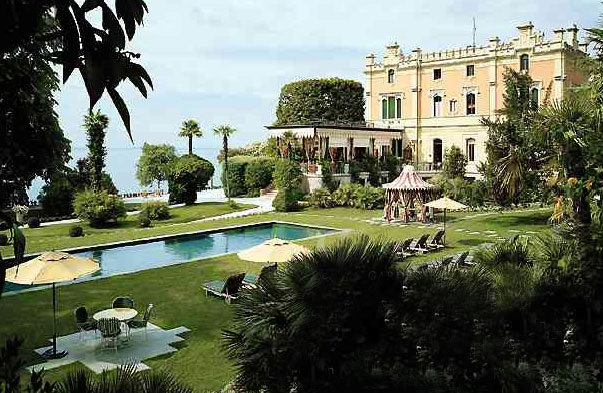 So whether you like the traditional favorites or prefer the unique; whatever you choose make sure to have the time of your new (married) life!!!!
BBFN (Bridal Bliss for Now),
Olivia